Digital STL Audio & Video Transmission System
1. Functional overview:
The digital STL audio and video transmission system is a professional system which can transmit 4 stereo (or 8 mono) analog/digital audio signals and 1 digital video signal wirelessly from the studio to the transmitting station. The system uses state-of-the-art software-defined radio (SDR) technology, digital code modulation, digital demodulation and decoding to transmit and receive, enabling audio/video signals to be transmitted at very high quality and with virtually no damage.
One set of standard configuration STL system equipment has a transmission distance of 60 kilometers in line of sight. The transmission system consists of STL transmitter, transmission filter, transmitting antenna & feeder cables, receiving antenna & feeder cables and STL receiver.
The diagram as below: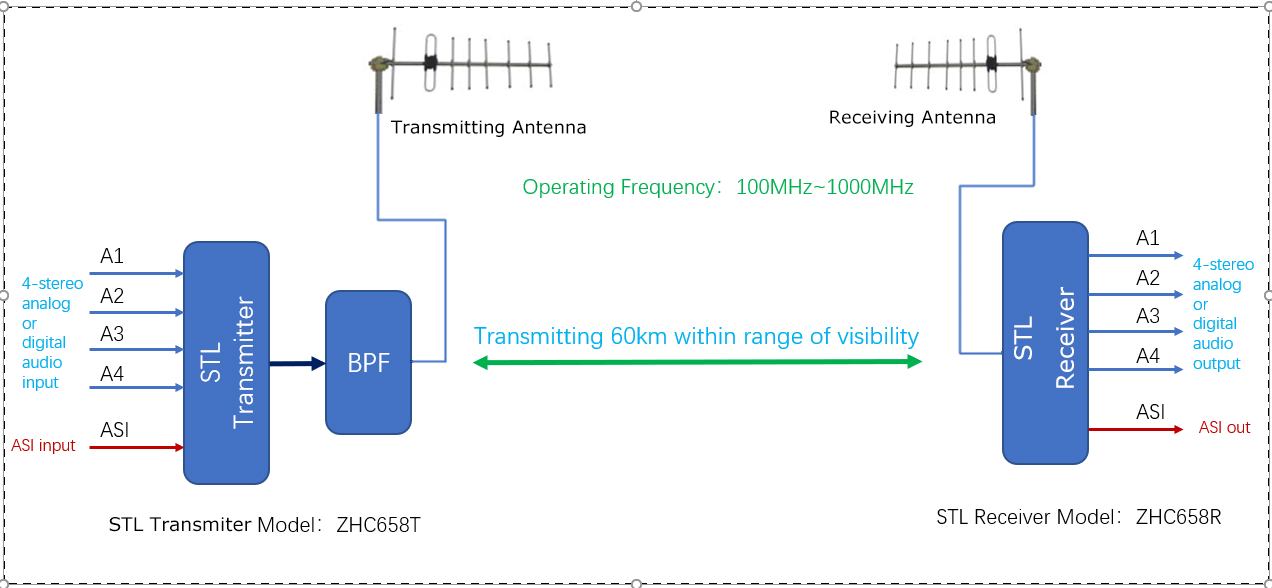 2. Technical specifications:
Item

Value

General Technical Specifications

Working Frequency

100MHz~1000MHz, continuously adjustable, stepping amount 10KHz

Frequency stability

2ppm

Transmitting power

2W @ shoulder >45dB, out-of-band   spurious <-80dBc

Modulation type

Stereo audio signal 32QAM@1M; ASI   signal 15MBit/S@5M

Receive sensitivity

32 QAM/-78dBm @80dB S/N

Input/output audio signal

Analog audio signal or digital   audio signal (AES/EBU)

Input/output video signal

ASI

Working temperature

-10℃~+50℃

Audio Technical   Specifications

Signal to noise ratio

>85dB @1KHz,0dBm

Distortion

<0.05% @30Hz~15000Hz,0dBm

Audio frequency response

±0.1dB @30Hz~15000Hz,0dBm

Left   and right channel separation

>80dB @30Hz~15000Hz,0dBm

Video Technical   Specifications

Band Shoulder

>50dB

MER

>45

Power Demand

Power Supply Voltage

90~260VAC full   range

Power Consumption

50W

Mechanical Dimensions

Transmitter

19-inch standard chassis, height 2U

Receiver

19 inches, height 1U

Cooling system

forced air cooling, three   anti-treatment

Noise

<50dB

Input & Output

Audio Mono Analog Audio(MPX)

-15dBm~+15dm,600Ω, XLR   interface

Audio stereo dual channel

-15dBm~+15dm,600Ω, XLR   interface

Digital Audio AES/EBU

-39dBFS~0dBFS,110Ω, XLR   interface

Digital Video ASI

1Vp-p,BNC   interface

RF input and output interface

N (Female)
3. Ordering information (please inform the working frequency and transmission distance when ordering):
1. The STL transmitter and the STL receiver are continuously adjustable for operating frequencies from 100 MHz to 1 GHz;
2. Select the center frequency of the output filter according to the operating frequency;
3. Select the transmit and receive antennas according to the operating frequency (the antenna working bandwidth is 20MHz);
4. Select the length of the transmit and receive cables according to the distance between the transmitter and receiver and the antenna;
5. Flexible selection of input and output audio signals based on actual needs is analog or digital.
6. The ordering description as follows: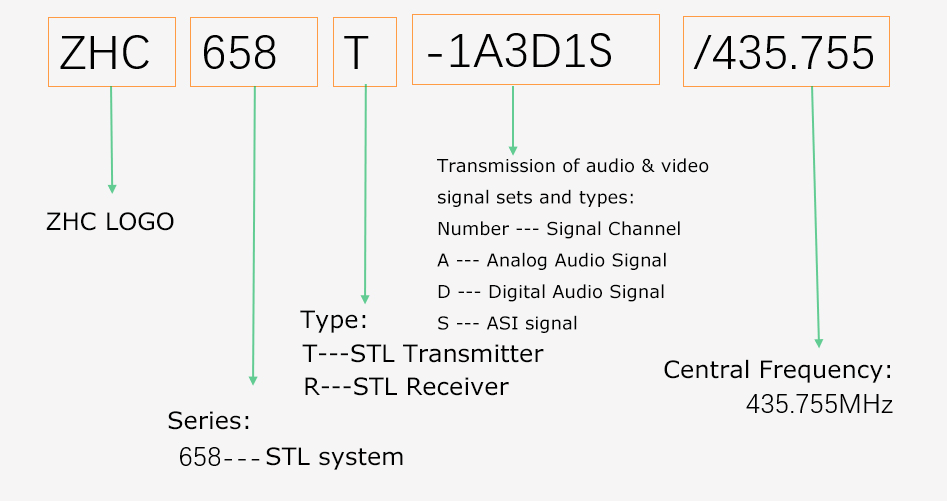 For example:
ZHC658T-1A3D/345.895
STL Transmitter (Input Signal: 1way Analog Audio + 3way Digital Audio, Central Frequency 345.895MHz)
ZHC658T-2D1S/758.975
STL Receiver (Output Signal: 2way Digital Audio + 1way ASI, Central Frequency 758.875MHz)