ZHC338-0101M Portable Digital Audio Monitor
Overview:
ZHC338-0101M is a digital audio monitor designed and developed by our company. The device is small in size, easy to carry, and easy to operate. It has a built-in battery and can be used continuously for more than 8 hours after charging.
It converts the input AES/EBU digital audio signal into an analog audio signal, which can be listened to with high fidelity through the headphone jack, and the listening volume can be adjusted by pressing the button.
This product is suitable for occasions that need to monitor the audio quality of AES/EBU digital audio signals, and can also be used as a digital-to-analog converter for ASE/EBU digital audio signals.
Features:
1. Lightweight and compact, easy to carry
2. Built-in lithium battery power supply, fully charged can work continuously for more than 8 hours
3. Monitor volume electronic control
4. OLED liquid crystal display dynamic volume and battery voltage
Principle block diagram: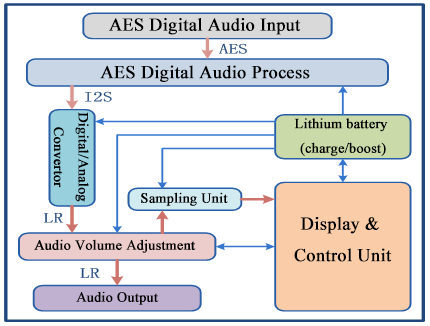 Technical Specifications:
1. Continuous use time more than 8 hours after fully charged
2. Digital audio input interface Three-pin XLR socket
3. Analog audio output interface 6.35mm headphone jack
4. S/N ratio ≥ 85dB
5. Frequency response ≤ 0.1dB, 30Hz~15KHz
6. Distortion ≤ 0.07%
7. Channel isolation ≥ 80dB
8. Size 113mm * 62mm * 110mm
9. Weight 450g
10. Relative humidity <95%
11. Altitude < 4500m
12. Operating environment temperature -5℃~+45℃